True to the title of the exhibition, Höller's work explores the limits of sensorial perception and logic through participatory experiences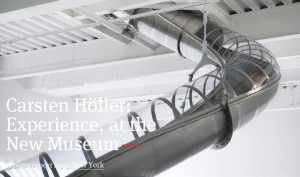 The New Museum presents the first New York survey exhibition of the work of the German artist Carsten Höller (b. 1961, Brussels, lives and works in Stockholm). Over the past twenty years, Höller has created a world that is equal parts laboratory and test site, exploring such themes as childhood, safety, love, the future, and doubt. Höller left his early career as a scientist in 1993 to devote himself exclusively to art making, and his work is often reminiscent of research experiments. His pieces are designed to explore the limits of human sensorial perception and logic through carefully controlled participatory experiences.
The New Museum's exhibition will include work produced over the past eighteen years in an immersive, interactive installation choreographed in collaboration with the artist. Höller will actively engage the Museum's architecture, with each of the three main gallery floors and lobby of the building presenting a focused selection of pieces that demonstrate different experiential dimensions of his work. Functioning as an alternative transportation system within the Museum, one of Höller's signature slide installations will run from the fourth floor to the second, perforating ceilings and floors, to shuttle viewers through the exhibition as a giant 102-foot-long pneumatic mailing system. The exhibition features a new light installation; disorienting architectural environments; a spectacular mirrored carousel; and a sensory deprivation pool, among others. Also included will be a recreation of Höller's Experience Corridor, where viewers are invited to undertake simple but affecting tests on themselves.