Maurizio Cattelan (born 1060)  is an Italian artist. Cattelan lives and works in New York.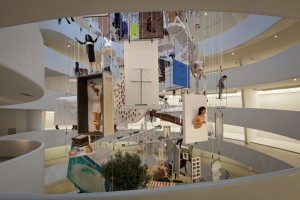 He designed lifelike characters and stages so bizarre, funny and provocative situations.
For his contribution to this year's Venice Biennale, Maurizio Cattelan perched two thousand formaldehyde-preserved pigeons over the entrance and among the rafters of the Central Pavilion. A parody of the art apparatchiks who flock to the Giardini during the exhibition preview—as predictably as pigeons gather (and shit) in the Piazza San Marco—The Others, 2011, is classic Cattelan.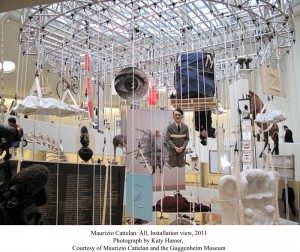 At the Guggenheim, curator Nancy Spector has orchestrated a full onslaught of the artist's characteristic satire, in a midcareer retrospective that brings together nearly 130 of Cattelan's best-known and most outrageous works made since the late 1980s, including a taxidermied horse hung from the ceiling, a meteorite-stricken Pope John Paul II, and a miniature Hitler kneeling in prayer, as well as a number of peering pigeons that, like the Italian provocateur, will threaten a fecal hail on visitors to the show—or on the institution of art itself?
© Solomon R. Guggenheim Museum
1071 Fifth Avenue, New York NY 10128