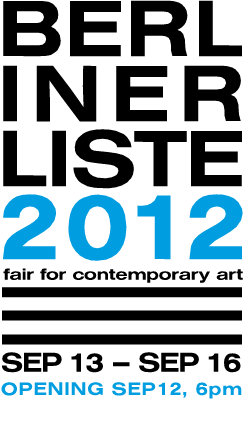 The BERLINER LISTE will take place from September 13th to 16th, 2012 and you are cordially invited.
Over 120 galleries, projects and artists will take the opportunity to exhibit their newest and most promising works in a fascinating setting in central Berlin.
Along with the Berlin Art Week, the BERLINER LISTE confirms Berlin's position as an exciting and lucrative art market.
The art on display ranges from contemporary painting, sculpture, drawings and graphics to installations, video art, performance and photography.
As Berlin's largest and most established art fair, the BERLINER LISTE welcomes a wealth of art lovers, gallery owners and collectors. Last year alone saw 10,000 visitors from all over the world.
More than 400 accredited journalists reported on the art fair in international newspapers, radio, television and digital media.
Paint your own picture of the diversity of contemporary art.
Soak up this art experience in central Berlin!
Date of Exhibition
Thursday, September 13th – Sunday, 16 th, 2012
Opening: Wednesday, September 12th, start 6pm in the MUMA and the TRESOR
First Choice for VIPs and press: Wednesday, September 12th, 3pm
Fair Location
MUMA
Köpenicker Straße 70
10179 Berlin-Mitte
Opening Hours
Every day from 1pm to 9pm except Sunday, September 16th, 1pm to 7pm
Entrance Fee
One-day ticket 8,00 €, reduced price 5,00 €, catalogue 5,00 €
Free access for exhibitors and VIPs.
Free access for the Opening Party in the MUMA and the TRESOR
Entry
Day ticket 8.00 €, concessions 5.00 €, catalogue 5.00 €
Opening party 8.00 €, incl. BERLINER LISTE entry, catalogue and TRESOR entry
Free entry for exhibitors and VIP ticket holders
Children up to 12 years: Free entry
The fair has disabled access.
(c) www.berliner-liste.org